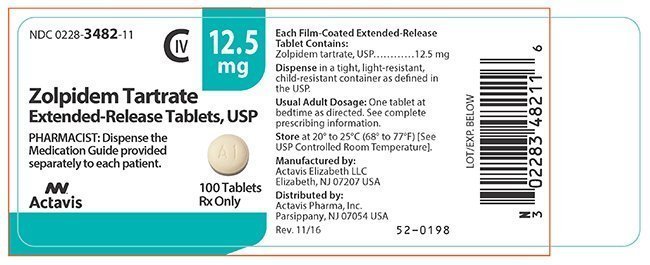 ZOLPIDEM EVERYTHING YOU NEED TO KNOW
Zolpidem is a sedative.

Used with insomnia.
Within half an hour you will be sleepy and drowsy. This effect lasts for about 6 hours.
Zolpidem works best if you use it occasionally. For example, no more frequently than once every three days.
You can become dependent on zolpidem. It is difficult to stop using it.
Do you use more than 2 weeks in a row? Then build slowly.
You can drowsy, sleepy, dizzy and tired. Your response decreases. It may take until the next day.
After taking eight hours you should not drive.
Watch out with alcohol. This can still make suffer.
Other side effects: headache, gastrointestinal symptoms, memory loss, nightmares, sleepwalking and numbed emotions.
Pain, unpleasant events, noise and concerns you may have difficulty falling asleep. Zolpidem reduces the stress which arises with this and makes drowsy. This encourages you to fall asleep and sleep better.
Effect
within half an hour after intake you sleepy and quiet. Therefore, make sure that you are at home, no complicated tasks to do more and achieve your bed easily. The action starts in half an hour and lasts for about six hours.
What are possible side effects of

Zolpidem

?
In addition to the desired effect, this can cause drug side effects. Also the next day.
The main side effects of Zolpidem are the following.
Frequently (more than 30 in 100 people), rarely also the next day
Drowsiness , fatigue, dizziness and vertigo. This has reduced your reaction and concentration, giving you more accident prone. Accidents can also occur for example in traffic, when climbing a ladder, control devices or monitoring and control activities. But for example also more likely to fall if you are out of bed at night have to go to the toilet.
Sometimes (at 10 to 30 out of 100 people), rarely also the next day
Decrease feelings : this drug not only leveled emotions such as fear and suspense, but also positive, such as happiness and contentment. It can also reduce your concern and empathy for others. Do you get depressed? from

Zolpidem

Please contact your physician.
Rarely (in 1 to 10 out of 100 people)
Headache and backache.
Gastrointestinal complaints , such as diarrhea, nausea, abdominal pain. These side effects need to go over a few days. When you take this burden remains, please contact the doctor.
Memory loss , especially of events to a few hours after taking the tablet. You can reduce this risk by sleeping at least 7 or 8 hours after taking the tablet.
Sleep disorders such as nightmares (at the end of the night), sleepwalking, just extra awake and nocturnal appetite.
Colds or other respiratory infections.
Restlessness , confusion and delusions. Children and the elderly are particularly susceptible. Please refer to these symptoms the doctor. It is possible that a lower dose or need some other means.
Colds or other respiratory infections.
Reduced efficacy when using this medication for more than two weeks, every day. The drug does not work more or less well to sleep. Therefore only use the drug occasionally or for periods of up to two weeks.
Dependence. You may experience withdrawal symptoms when you stop using it. In short-term use, the probability of this is very small. People who have this drug

Zolpidem

for more than two weeks of daily use here do have a great chance. Always build gradually as you this way for more than two weeks used daily.
Very rare (less than 1 in 100 people)
Incoordination . This can be awkward in your movements and have difficulty speaking clearly (articulate). You have to attack more likely.
Muscle pain , muscle spasms , tremor, joint painand neck pain . Consult your doctor if you have a lot of trouble here.
S muscle weakness , feeling weak in the muscles . This side effect can cause the following other symptoms.

Blurred vision or double vision , a temporary effect on the eye muscles.
Snoring by sagging uvula. Have you ever experienced that your breathing stops briefly during sleep ( sleep apnea )? You can get here more affected by this medication. Check with your doctor if you notice.

Tingling or numbness in the extremities.
Hypersensitivity to this medication. The signs include a rash, itching or hives. Very rarely arises 'angioedema' : This is a swelling of the face, lips, mouth, tongue or throat. You can hereby be very stuffy. When it occurs, you should immediately consult a doctor or go to the First Emergency Service. You may not use these types of resources in the future. Give therefore to the pharmacy from which you are allergic to zolpidem. The pharmacy team can then make sure that you do not get back this way.
Consult your doctor if you have too much experience any of the side effects listed above, or if you experience other side effects that you are worried about.
When do you take Zolpidem?
Take this medicine Zolpidem just before going to sleep in and not before. The operation namely occurs within half an hour in.
How long can you use Zolpidem?
When this drug occasionally used, it can help with good sleep. Use it almost every night then the effect after a few weeks. Therefore, only use it in special situations. In use for more than one week you could win 'nicotine withdrawal insomnia. Your body expects the effect of zolpidem to fall asleep. So only use it occasionally and not more than two weeks in succession.
What should I do if I miss a dose of Zolpidem?
You can not sleep at night and you want to still take a tablet? This can, but keep in mind that it means at least six hours continues working. If you have to get up earlier, you may be hard to wake up and have a day reduced responsiveness.
Do not take more than one dose for one night, even though you can not fall asleep or staying asleep after one dose!
Can I drive with

Zolpidem

, drink alcohol and eat and drink everything ?
driving with Zolpidem?
It can be dangerous to participate in the traffic when using this drug. This is because of side effects, such as sedation, drowsiness, fatigue, impaired coordination, slower thinking, dizziness and double vision. You may from 8am back driving after the last dose. Usually, this medicine will have no influence on driving.
Do you zolpidem example 23 hours taken in the evening? You may the next day after 7 am driving again. But do this only if you no longer suffer from the side effects.
For more general information see the theme " Drugs in traffic read. In this issue you can read for instance what the law says about drugs in traffic. You will also find advice that you should consider if you have (again) can drive.
drinking alcohol with Zolpidem ?
Although you should avoid drinking alcohol in combination with this drug, alcohol increases the sedative effect of this drug.
eat anything?
You can eat anything with Zolpidem.
Can I zolpidem use with other medications?
This drug has interactions with other medications. In the text below are only the active ingredients of the drug, not the brand. Whether your medication contains one of the active ingredients, you can check your package insert under the heading 'composition'.
The drugs which act the main interactions are as follows.
Other agents that influence the reaction. These funds are often on the packaging yellow warning sticker pasted. The effects on, for example, enhance the ability to drive each other. Do not drive if you use two or more such agents.
Some medications for epilepsy . Because these drugs can decrease the amount of zolpidem in the blood. As a result, the efficacy decreases. Ask your pharmacist which medicines are this. Your doctor prescribes another medicine or to fit the dose.
Rifampicin and rifabutin (used to treat, inter alia, tuberculosis), and bosentan (used to treat pulmonary arterial hypertension). Because these drugs can decrease the amount of zolpidem in the blood. As a result, the efficacy decreases. Your doctor prescribes another medicine or to fit the dose.
If you are unsure as to whether any of the above interactions for you is important? Please check with your pharmacist or doctor.
Can I use this medication

Zolpidem

if I am pregnant, wants to be or breastfeeding?
Pregnancy
report it to your doctor and pharmacist when you are pregnant or want to become soon. On the use of this medicine during pregnancy is insufficient evidence to know for sure if it is safe. Weigh therefore with your doctor the severity of your condition against the risk to the child. Possibly, you can (temporarily) switch to another drug.
Swallow this medication NOT from the eighth month of pregnancy. When used after the eighth month, your child after birth are so groggy and weak that it has difficulty breathing. Moreover, withdrawal symptoms occur when the baby.
Breastfeeding
If you are breastfeeding, talk to your doctor or pharmacist. The drug enters a small amount of milk. This can give side effects in children. This you notice that your baby is drowsy and drink less. If your doctor thinks that you can breastfeed: pay close attention to these phenomena. If they occur, contact your doctor.
Can I just stop

Zolpidem

?
When this medication is used only a few days in a row, you can stop at once. You experience than no withdrawal symptoms on.
Have you used it for several days in succession and use it suddenly no more, you have a chance to "withdrawal insomnia. Your body expects the effect of zolpidem to fall asleep. This effect can last one to two nights. So only use it occasionally and never more than a few days straight.
Do I need a prescription for Zolpidem?
Zolpidem is since 1988 on the international market. It is available by prescription under the brand name Stilnoct and if the generic Zolpidem tablets.
ZOLPIDEM EVERYTHING YOU WANT TO KNOW
Related posts