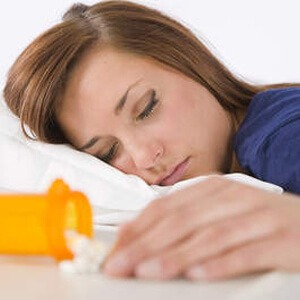 Frustration, despondency and despair. If you've slept badly for a long time, you're probably familiar with it in the ears. At these moments, taking sleep medication is often very tempting. Take a sleeping bag, take a good time and wake up in the morning.Problem (for a moment) resolved! However, it's important to be aware of the negative side of sleeping pills before starting it.
Disadvantages of sleepers
The most commonly prescribed sleepers are the so-called 'benzodiazepines' temazepam and oxazepam. Another drug that is widely used is zolpidem. These medicines are known for their positive effects in the short term, but have adverse effects in the long term. Below are the main disadvantages for you in a row.
The addictive action of sleep medication
Sleeping devices have the annoying feature that they are very addictive. It's hard to stop it. For this reason, it is recommended not to use it for more than 7 to 10 days, and the stock of sleep medication you receive at the pharmacy is always very limited. An important cause of this addictive character is mental dependence. The idea of ​​going to sleep without pill can be anxious in the long run. You get the feeling you can not do without. In addition, the function of sleeping pills decreases rapidly. After a long period of time, your body gets used to the active substance and its higher doses are needed to achieve the same effect. We probably do not have to explain that this can be very dangerous.
It's hard to stop it
Parasomnia
Ever heard of parasomnia? We hope for you not. Parasomies are unusual behaviors that occur during sleep. You are not aware of this and you do not control it either. For example, you can think of well-known sleepwalks , but also complex actions such as conducting phone calls, driving and even sexing can be carried out unconsciously in sleep mode. Sleep pills – especially benzodiazepines – significantly increase the chance of these parasites. It is important to be alert and, if necessary, turn on a doctor immediately.
Dizziness during the day
In many cases, sleep medication has not yet been fully developed in the morning after use. The chance that you feel drowsy, tired and sleepy especially the first hours of the day is big. This is not only a nuisance, but it also increases the risk of accidents while driving or operating machines. Therefore, it is advisable to always keep the recommended dose and take only sleeping pills if you have sleep for at least 8 hours.Additionally, do not use drowsiness in combination with agents that have a suppressive effect, such as other medicines, alcohol or drugs.
Wise use of sleep medication
The main advice is to see sleep medication only as an emergency solution, always follow the advice of the GP (and the leaflet) and stop in time. In addition, it is important to realize that you can do a lot to help improve the quality of your sleep in the long term. On this website you will find many useful tips that can help you reduce or solve your sleep problems without medication. In addition, there are good Dutch-language books on solving sleep problems in a natural 'pill-free' way.
Sources
American Academy of Sleep Medicine. (2009). Preventing parasomnias. Retrieved August 23, 2010, from http://www.sleepeducation.com/Topic.aspx?id=62. Longo, LP, & Johnson, B. (2000). Addiction: Part I. Benzodiazepines-side effects, abuse risk and alternatives. American Family Physician, 61 (7), 2121-2128.
Side Effects of Sleep Drugs. (2007, July 31). Advised from http://www.fda.gov/downloads/ForConsumers/ConsumerUpdates/ucm107761.pdf
About the author of this guest blog
This article was written by William van der Klaauw, founder of Sleepwijzer.net. In addition, he is the author of the book Perfect Sleep in 7 Steps in which he helps readers through the so-called "7 Step Method" to resolve sleep problems definitively.
Related posts